Incidence clinique des psychotraumatismes dans la consultation externe d'un service de psychiatrie Clinical impact of psychotraumas in outpatients' department of psychiatry
The authors aimed at evaluating the impact of psychotraumas in psychiatric outpatients. One hundred forty psychiatric outpatients were consecutively included, without distinction of their current pathology. They filled in an inventory of potentially traumatic experiences, a psychological dissociative experiences scale (DES), a somatoform dissociative experiences questionnaire (SDQ-20), and underwent a structured interview for diagnosis of posttraumatic stress disorder (CAPS, according to the DSM-IV). One hundred subjects related psychological trauma, and 76 patients suffered from posttraumatic stress disorder. Dissociative disorders are found significantly correlated to traumatic experience and to posttraumatic stress disorder. The traumatic impact is found more substantial as the number of events lived was elevated. This study confirms the elevated prevalence of the psychological traumas and psychotraumatic aftermaths in outpatients of a department of psychiatry, independently from the mental disorder. It confirms the strong association between trauma and dissociative symptoms as a whole, including somatoform dissociation.
Les auteurs ont cherché à évaluer l'impact des psychotraumatismes dans une population de consultants en psychiatrie. Cent quarante patients psychiatriques ambulatoires ont été inclus successivement sans distinction de leur pathologie psychiatrique. Ils ont rempli un inventaire d'évènements vécus potentiellement traumatiques, une échelle des expériences dissociatives psychiques, un questionnaire des expériences dissociatives somatoformes, et ont eu un entretien structuré pour le diagnostic du «trouble de stress post-traumatique» (selon le DSM-IV). Cent sujets ont vécu des traumatismes psychiques, et 76 patients ont éprouvé un trouble de stress post-traumatique. Les troubles dissociatifs retrouvés sont significativement corrélés au vécu traumatique et au trouble de stress post-traumatique. L'impact traumatique est trouvé d'autant plus sévère que le nombre d'évènements vécus est élevé. Cette étude confirme la prévalence élevée des traumatismes psychiques et des séquelles psychotraumatiques retrouvées dans la consultation externe d'un service de psychiatrie, indépendamment du trouble mental pris en charge.
Fichier principal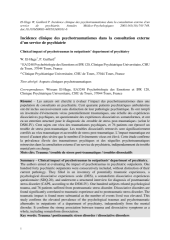 2003_El-Hage_Ann_Medico_Psychol_VF.pdf (488.29 Ko)
Télécharger le fichier
Origin : Files produced by the author(s)